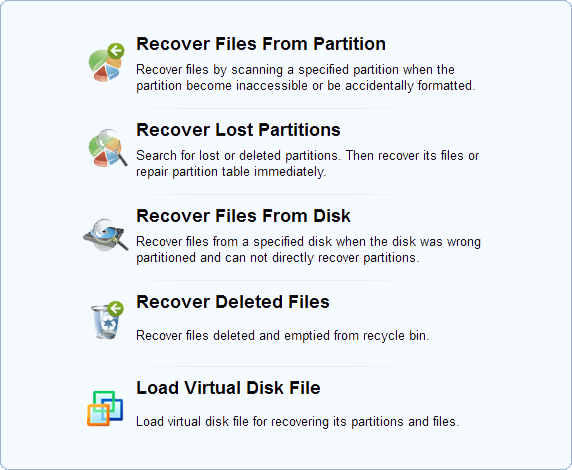 EassosRecovery is a handy and powerful data recovery tool, which allows you to recover lost files and
lost partitions
quickly. It is especially
easy to use
, you can learn it in minutes.
Note: EassosRecovery has renamed to "EassosRecovery" from Version 3.0.
Main Features
-
-
-
-
-
-
-
-
-

Lost partitions recovery.
Recover files from damaged partitions.
Recover deleted files.
Especially easy to use, can be learned in minutes.
Support IDE, SCSI and SATA disks.
Support USB flash disk, USB hard disk, memory card and SD card, etc.
Support FAT12/FAT16/FAT32/NTFS file systems.
Support virtual disks of VMware, Virtual PC and VirtualBox.
Support Windows 7.
More...
"Incredibly, Windows show: the disk structure is corrupted and unreadable, but the program found and recovered my damaged partitions within two minutes... thanks! It was easy-to-use and powerful, I highly recommend EassosRecovery to anyone who is experiencing data losing."
Sandy Randt
USA
"Followed the program's wizard, I easily recovered hundreds of my lost photos. Don't worry even if you are not a computer expert. Just clicked the mouse button several times, I finished the job. "
Jim Brown
Canada

30 Days License: